We answer members' pet training and behavior questions in live sessions, which are recorded and provided here for easy access. Please log in or sign up for a Student or Pro membership to see the video on this page.
Animal training and care questions in this video:
Why is it so important to adopt from Alaska? Why not drive with Peanut to another stare to select?
Is it okay to pick up your puppy after puppy disengages from something (car going by) and there is no space to move after marking, but you notice that puppy is scared and circles between your legs? Or just comfort on the ground?
If an off-leash dog is pestering my dog, and the other owner is not paying , I find that in the worst case by tossing treats away to get the other dog to leave us alone, (as we went over in class), the dog instead follows-us. How can I make this tool more effective?
As a trainer why do you think people would be resistant to train their dog / puppy / learn more about why their animal does certain things that annoy them? The local trainer (one town over,) who people use privately *most often* and *pay well*, has no education, no animal training / no affiliations: CCPDT / APDT, no website, and uses all traditional methods. Why do you think people do this?
Continuing on your thoughts about people's resistance to training / my curiosity about it.)If the answer is lack of education, I have easily shared the link to this site with 60 or more people / shelters / organizations telling them about the one month free trial for the people / shelter scholarship. 1% have followed through.
What if my dog does not sniff calmly, but goes fast forward when I don´t throw treats and sniffs randomly? How to do BAT setup with this kind of dog or relaxed walking?
How do I get my puppy to stop going into the trash?
Grisha also talked about what she's done at home to prepare for her new puppy at home, her plans for the puppy's first hours with her,  and what she's going to do to set the puppy and Peanut up for success.
Links Grisha referred to in this session (or could have):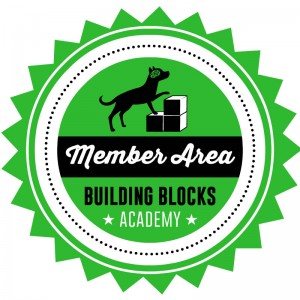 Building Blocks Members get instant access to video lessons, live Q&A, and more!

Professional, ad-free, expert advice

Click to Learn More
If you are already a member, please log in.