We answer members' pet training and behavior questions in live sessions, which are recorded and provided here for easy access. Please log in or sign up for a Student or Pro membership to see the video on this page.
Dog training and care questions in this video:
Lucy is clueing into setups before she even gets out of the car. Should I change locations often for BAT setups to prevent this scenario?
So interesting watching your Q&A as you work with Peanut and Bean in real-time.
If you say, "Go Around", as Bean walks his spiral, at what point would you think that you could say "Go around!" and have him be able to do it?Would this change from cue to cue and from situation to situation?
Bean acts so funny behind you during the Q&A's. In one, rolling on his back.If a person was not planning on ever doing any competition ever with their dog, would you think that the essential cues listed in your training video (this site,) would suffice?For example is there a reason to teach 'heel,' if one can do BAT leash work in all situations?
I have given more control to my dog e.g. by letting him decide which way to walk at least in one our daily walks. He made a decision e.g. not to walk where the other dogs are barking. When telling this to my friends, they do not understand how I can let my dog control and be the boss. How much control can you give to your dog? I like giving my dog choices in various situations.
We had a tremendous success near a unofficial agility competition area. I followed my dog, he made great choices and we entered the competition area with other dogs for a while! I almost cried 🙂 My dog air sniffed the other dogs and went a bit towards the other dogs that the leash tightened. I did M&M. Is that correct? I petted my dog and then he did a couple barks. Why is that?
Based on a response from last week's Q&A, why would one observe more people in NYC using traditional training methods than in other parts of the country?
Why dogs get zoomies? What is the meaning of zoomies?
Could you demonstrate how to shape interaction/play with a toy?
Links Grisha referred to in this session (or could have):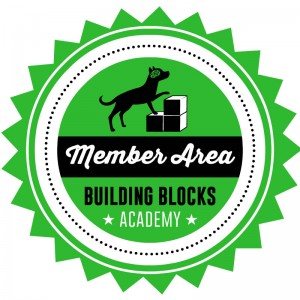 Building Blocks Members get instant access to video lessons, live Q&A, and more!

Professional, ad-free, expert advice

Click to Learn More
If you are already a member, please log in.