We answer members' pet training and behavior questions in live sessions, which are recorded and shown here. Please log in or sign up for a Student or Pro membership to see the video.
Dog training and care questions in this video:
Part 1: It is so interesting to watch Peanut and Bean both in the Q&A and on your Youtube channel.Would you say that Bean barking at the vacuum and at the lawnmower etc. in your videos are normal puppy behaviors at his age?At what puppy age would you say that these types of reactions were beyond a normal scope of reactions?
What about in a dog over the age of 2 years old?
Part 2: What might you recommend for a dog who is fearful of these things? Perhaps the owners just adopted an adult dog and s/he indicates that s/he is not comfortable interacting with these objects / sounds / new people / dogs?
I implemented adding the box & find it with a treat to run away.
Turns out the issue is that he does not like the taste of the toothpaste, (3 diff. brand.) When I use creme cheese he is fine with it. I will email some Veterinary Dentists for possible recipes for toothpaste that I can make. Do you have any other suggestions?
What do you do if an off leash dog runs at you and you are scared? Will acting scared make it more likely to attack?
How would you teach your dog to do more of a casual "hi there" then move on greet as opposed to a intense sniff the person for five minutes one?
Grisha gave an update on training with puppy Bean
Links Grisha referred to in this session (or could have):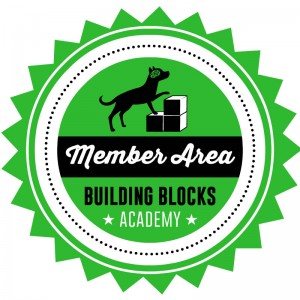 Building Blocks Members get instant access to video lessons, live Q&A, and more!

Professional, ad-free, expert advice

Click to Learn More
If you are already a member, please log in.