We answer members' pet training and behavior questions in live sessions, which are recorded and shown here. Please log in or sign up for a Student or Pro membership to see the video.
Dog training and care questions in this video:
BAT has really improved my reactive, however I feel like my calm dog has been tagging along on a lot of the reactive dog stuff and has not had the chance to do activities that suit her. Do you have any advice/suggestions on how to juggle training schedules so that both have a fair chance to spend quality training time while still making steady progress with the reactive one.
My dog with shy tendencies has a strong and positive reinforcement history for the cue 'find it', with our BAT work. Now I want to reinforce him to 'leave it,' ( to avoid eating food on the street and in the park.) He is confused. Can you make any suggestions?
In BAT setups you let your dog greet the decoy dog. How does the dog know in real life whether he is allowed to greet the other dog walking towards us or not? Or does the greetings in setups bring this kind of problems at all? Do the dogs begin to want to greet other dogs?
BAT setup is easier when the decoy dog is sitting the whole time. Should there be more movement in some setups or not necessary?
With two shy, but friendly dogs, would you use ninja BAT to let them greet? How abot two puppies, who both are shy, but friendly. How to let them greet?
My dog, who is very people friendly, is reactive whenever another dog behaves reactively towards another person.This is particularly the case with dogs he knows and looks up to. He then barks and lunges back and forth (conflicted). At this point, his amazing recall fails (though I can call him off a running deer!).Can BAT help with this?
Special topic:
Links I referred to in this session (or could have):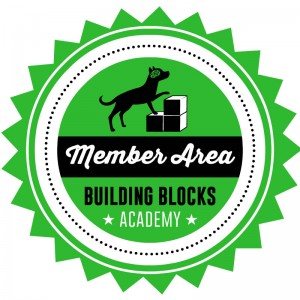 Building Blocks Members get instant access to video lessons, live Q&A, and more!

Professional, ad-free, expert advice

Click to Learn More
If you are already a member, please log in.