We answer members' pet training and behavior questions in live sessions, which are recorded and shown here. Please log in or sign up for a Student or Pro membership to see the video.
Dog training and care questions in this video:
An Animal Welfare Act has been approved in a second Canadian province to outlaw animal ear cropping and tail docking. I know that this is also true in certain European cities where you have taught. Do you think that this might become law in some (or all,) American cities also?
Watched the great Eric Brad recording! Imagine that this is hard to estimate, but if a person went from being a traditional trainer to being a positive reinforcement trainer with the same dog, what would / could the reaction be in the dog initially? And, how long could it take the dog to buy in?
My 3 year old Border collie cross is extremely fearful of parachute jumpers and wind surfers on the beach. We have to run off the beach. I have bought a kite and have been able to get her used to it on the ground but she gets very anxious when it lifts 1-2 meters off the ground. After she has seen a kite or parachute jumper she scans the sky for 2-3 days. She is ok with aeroplanes 🙂
Last week, in the Q& A. I think that you said, 'That you train for life?" Does that mean that you will be training Bean and Peanut for their entire lives?With Peanut and dogs who are older, would you recommend, teaching new and slightly more challenging things to them, related to their skill set?
Jump up for Bean. Thanks for that great demo.What do you think about teaching this for small dogs to be on a box or table for cooperative care?Would that be more comfortable for a small dog, or is it the same of the owner sits on the ground or floor?
I run a dog daycare and when a new dog comes in, everybody rushes to the fence and starts barking. What are some ways to get that to stop?
I'd like to do some concept training with my dog. How to you teach a dog left or right? What else can you teach?
Special topics:

Training with positive training but then using corrections when the dog "knows it."
Links I referred to in this session (or could have):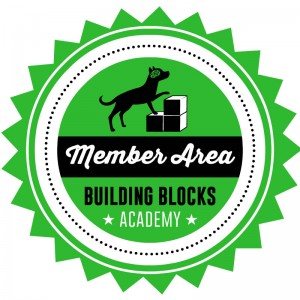 Building Blocks Members get instant access to video lessons, live Q&A, and more!

Professional, ad-free, expert advice

Click to Learn More
If you are already a member, please log in.