In the Office Hours, I answer members' pet training and behavior questions in live sessions, which are recorded and shown here. Please log in or sign up for a Student or Pro membership to see the video.
Dog training and care questions in this video: 
This was a special session where I shared video of two scenarios. One was a sequence of off leash greetings that I posted to the Facebook group. Links to the clips on Facebook: One, two, and three. (Must be logged into Facebook and a group member to see them)
ref. video 2 (B with other dogs). If you were able to repeat this situation, is there anything you would do differently to make Bean more confortable / not to growl? Is there a way to teach your dog in situ? For instance, would mark & move be useful? But then, isn't the growl in this situation OK as those dogs are over him?
Ref. video 2 (Bean meets the dogs).This is the exact type of situation where Boston will growl at other dogs. We've done BAT which helped but also avoiding as much as we can these situations. The issue is that I don't enjoy my walks anymore because I feel I'm constantly avoiding . So when/how do you know that it is OK to let them learn between themselves as you suggest on the video?
I also talked about:

Videos of a BAT set-up with coaching by Ellen Naumann, CBATI in Los Angeles
Videos of Off Leash greetings with a BAT dog
Links I referred to in this session (or could have):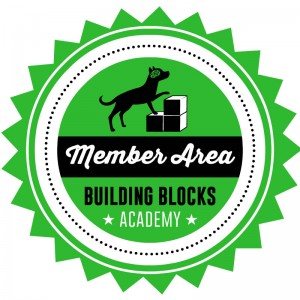 Building Blocks Members get instant access to video lessons, live Q&A, and more!

Professional, ad-free, expert advice

Click to Learn More
If you are already a member, please log in.