In the Office Hours, I answer members' pet training and behavior questions in live sessions, which are recorded and shown here. Please log in or sign up for a Student or Pro membership to see the video.
Dog training and care questions in this video: 
Do dogs know the differences in time, ie. 30 minutes vs. 1 hour, 2 hours etc. when left alone in the house? Do you have any other useful tips on leaving dogs alone.
Hi my malamute has really bad separation anxiety how am I going to be able to leave him
My dog is attacking specific friends of my Children. She seems to snap at them and sometimes bites them. She is a rescue puppy From spain. How can I handle This so that those kids can come relaxed in my house?
(comment based on the dog park question from last week)
It's great for any animal to interact with same species, but the dog park is not always the only option
Grisha what do you think is more important on a walk if I have limited time; letting the dog sniff and explore or getting exercise in?
(in response to description of managed puppy play from last week)
Having trouble for some reason visualizing the puppy/intros in a "class" situation. Do you have another explanation of this somewhere? I think I'm understanding that the puppies are initiating the communication, yes?
I am working with a number of clients who have reactive small breed dogs - chi mixes and poms. Have your experiences with Bean given you any special insight or recommendations for doing BAT with small dogs? Thanks.
Links I referred to in this session (or could have):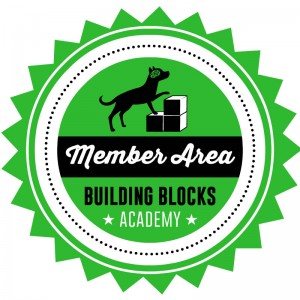 Building Blocks Members get instant access to video lessons, live Q&A, and more!

Professional, ad-free, expert advice

Click to Learn More
If you are already a member, please log in.