In the Office Hours, I answer members' pet training and behavior questions in live sessions, which are recorded and shown here. Please log in or sign up for a Student or Pro membership to see the video.
Dog training and care questions in this video: 
What vet handling do you do with Bean? I've been working on chin rests, eye and ear treatment, checking and brushing teeth, lifting her tail for a temperature but check, nail clipping. Do you have any other suggestions?
One leash skill I need to work on is relaxing the line after a slow stop. Usually this is pretty easy but sometimes Freyja inches forward as soon as I begin to relax the line. I slow stop her either because she is going straight toward the other student dog, or heading that way due to a scent or treats on the ground. How many times should I attempt to relax the line before switching tactics?
I also talked about

Chin targeting as the Monthly Challenge. This is really great for grooming, vet care, stand for exam, and other body handling.
I did some chin target training with Bean and Zuki jumped up while we were working. Bean told her off so I talked about how to work on that issue. I will go over the body language in the snarky moments in live office hours  next week.
Links I referred to in this session (or could have):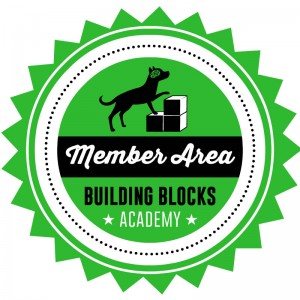 Building Blocks Members get instant access to video lessons, live Q&A, and more!

Professional, ad-free, expert advice

Click to Learn More
If you are already a member, please log in.