In the Office Hours, I answer members' pet training and behavior questions in live sessions, which are recorded and shown here. Please log in or sign up for a Student or Pro membership to see the video.
Dog training and care questions in this video: 
What are some of the ways to minimise distress to dogs when partners split up and one leaves the family home?
This might seem like a strange question but I have heard you mention using a zig zag approach when approaching the Helper but how do you do this approach if the dog is not doing it on their own . So ... we lead the dog ? That doesn't seem what you would mean
Hi Grisha, just thinking about the Bat theory test [for CBATI certification]. I have the outline for the PSA side of the certification process but is there a guide as to what is covered in the theory part? I.e. is it all about BAT theory & usage or does it include other areas such as learning theory, body language etc. Just trying to judge whether ready to take the plunge. Thank you and looking forward to November 🙂
When I go off leash bushwalking with Astra, she's not interested recalling for food or a game. This has limited how much off lead walks we can do. Today I started a game of tossing the treat but fainted moving in different directions to get her excited. It worked quite well, but I'm wondering what else I can try apart from jumping around like a crazy owner (haha) and using super high value treats.
We have a question for anyone who has moved from an apartment where the dog always had to be taken out on leash to potty into a house with a yard? Our friends' Bulldog, Duke, won't use the yard at all. It is all grass with cement walks on both sides and a cement patio. He did go when we brought our two female dogs over but wouldn't go again once they left. Any ideas to help get Duke to potty in his new yard? Thanks!
I walk a female Poodle. I usually carry my little female through her house to the back door which is where we start our walk. One day I decided to let her walk through to the back door. Can you tell me why, when they were outside the female dog lifted her leg & peed on my smaller female dog? Just wondered what was going through her head? Interesting.
I also talked about:

Monthly Challenge: conditioning a muzzle, harness, or other gear. Prize: Ahimsa Dog Training manual - print or eBook
Happy dog camping tips (for dogs with reactivity issues)
Socially motivated dogs and personal play
Links I referred to in this session (or could have):
Zig zag Mark and Move has been discussed in some previous office hours and in the BAT book
Social motivation versus food motivation (research study)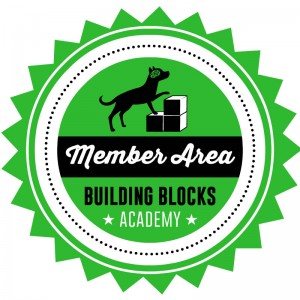 Building Blocks Members get instant access to video lessons, live Q&A, and more!

Professional, ad-free, expert advice

Click to Learn More
If you are already a member, please log in.