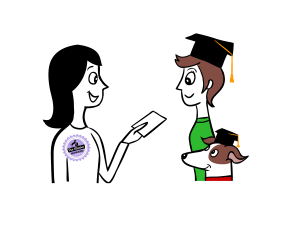 We have a scholarship program for one free Pro Membership to every non-profit animal shelter and rescue organization.* There are no strings attached. It's normally $39.95 for a year, but continuous access is free for qualifying shelters and rescues. p.s. Thanks in advance for sharing this page! 🙂
[Click to read more about memberships].
This is a great opportunity to educate adopters, volunteers, and staff.
One free Pro Membership per organization.
Any country! ABBA is international.
Requests for membership only allowed from an official representative of the organization.
Free membership offer limited to non-profit organizations that rehome animals.
As a Pro Member, your organization can request a discount code for 30-day free Student Memberships for adopters, volunteers, or staff.
Free rescue memberships automatically include a listing in the Find a Pet Rescue directory, our list of rescue organizations. You will be able to update directory information by logging in and updating the profile.
Note that these memberships are for institutional use, not for individual offering professional dog training to the public. Free rescue memberships do not include directory listings in the general "Find a Professional List" and CEUs are not reported.
There are TWO main steps. 1. Get a Free Sample account and 2. Apply for the upgrade.
To apply:
Please check whether your rescue already has an account in our directory
Sign up for our regular Free Sample account - choose a user ID that reflects your organization name, as it will be public - the email you register with will be kept private
YOU WILL NOT YET HAVE THE FREE SHELTER SCHOLARSHIP -- the shelter scholarship is a real Pro membership, not just a sample. Please read on! 🙂
Log in (with the credentials you created)
REQUEST AN UPGRADE.

 To do so, come back to this page and you will see an upgrade request form below (note: the email does not direct you here, so you have to remember to come back!!!)

When your request is approved, we will upgrade your membership to Pro status
* Includes government rescues/shelters as well as privately registered non-profit organizations