Online seminar recorded October 4, 2016 - Presented by: Grisha Stewart.Small dogs are awesome and amazing to live with. There are some specific challenges that people face when they care for small dogs, including bias from other people, safety issues, aggression, and training problems. This seminar discusses empowerment and positive dog training that will be helpful for both regular pet folks and professional trainers.
---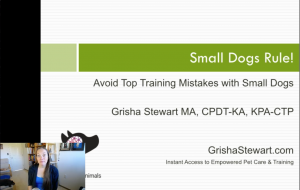 If you purchase this video below, just refresh the page and it will show up right here.
Use the form below to purchase the streaming recording, with a nice bonus: one FREE month of Student membership in ABBA, for extra support and a chance to ask Grisha questions. There are no strings attached. The membership will not renew automatically and you will keep access to this event recording indefinitely.
About this Online Seminar:
Presented by: Grisha Stewart, MA, CPDT-KA on October 4, 2016
Streaming on your computer or mobile device (not a download or a physical DVD)
Watch the recording as many times as you want
Run time: 1.5 hours
Pro Members can earn CPDT CEUs (membership must be active on our next reporting date). The CEUs are only CPDT, not CCBC.
TOPICS:
This recorded on-demand streaming webinar explores how training and life with small breed dogs can be different for small and toy dogs than for larger canines. We discuss the following points in the seminar:
Benefits of having a small dog
Problems specific to small dogs
Ways to empower small dogs while still setting safe boundaries
Training and safety challenges for small dogs

Reading body language
Reinforcement strategies
& much more
ABOUT GRISHA: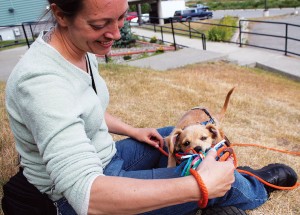 Grisha Stewart is an author, international speaker, and dog trainer who specializes in dog reactivity. She founded Empowered Animals and the online Animal Building Blocks Academy in Alaska and Ahimsa Dog Training in Seattle, which has earned many awards, including Best of Western Washington.
"Ahimsa" is a Buddhist doctrine of nonviolence to all living things, which reflects Grisha's focus on force-free methods to promote the well-being of dogs and their humans.
She lives with 14-pound Bean and her new dog, Zuki, whose goal weight is about 18 pounds.
If you are already a member or have made a purchase at ABBA before, please log in with the user info you created.
Other Useful Links related to questions or topics from this online seminar:
If you like this seminar, please help us out by sharing this page on Facebook!