Many people talk TO their dogs, but not with them. Did you know that you can ask your dog questions and get answers back? It's not telepathy; it just takes an understanding of body language, animal learning, consistency, and creativity.
If you have already purchased this video, please log in with the user info you created.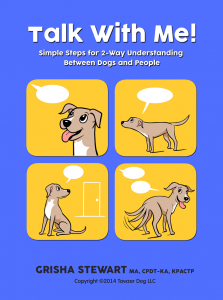 Video #1 in the BAT 2.0 Empowered Animals Series (Buy the set)
Presented by: Grisha Stewart MA, CPDT-KA, KPACTP
Instant streaming on your computer or mobile device (not a download - physical DVD sold separately)
Watch as many times as you want!
Run time: 1 hr 37 mins
Produced by TawzerDog in 2014 for home viewers (not just a filmed seminar)
Includes a PDF with slides to go along with the video
Actively focusing on communication between humans and dogs allows us to live more peacefully with our canine family members. With some simple changes in how you interact with your dog, you can more thoroughly understand his needs and also help him understand and respond to yours, too.
This thought-provoking Feature Film will change your relationship with your dog. The information is appropriate for anyone who interacts with dogs on a personal or professional level.
Save on your video by getting a Building Blocks membership at the same time. Members get discounts here in the Campus Store, plus unlimited access to tons of video lessons.
---
Purchase: Feature Film - Talk With Me!
---
---
* Student Members get access to tons of how-to videos, discounts in our Campus Store, and access to other resources in our community. Does not automatically renew.
** Pro Members get all of the Student Member benefits, plus bigger discounts, Animal World Superstars interviews, and more features for dog trainers. Hobby trainers are welcome - you need not be a working professional. Does not automatically renew.