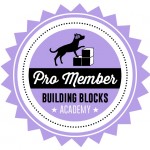 Professional Members can earn dog training CEUs for CPDT or CBCC renewal.
How to Record:
Be sure to enter a CPDT or CBCC number in your profile.
A link appears on screen after you finish each Feature Film, Webinar, or video in the member library. Click to add that video to your Video History.
Check Your Total: You can see your history and accumulated CEUs under the My Account tab. NOTE for CBCCs: The total listed is for CPDT CEUs - this is not always precisely the same number for CBCC but most of the time it is the same. We do not have a way to display the CBCC CEUs separately.
Reporting Schedule:
Pro Member CEUs will be reported twice a year to the CCPDT if you have a CPDT or CBCC number in your profile. Reporting dates are April 1 and October 1. You must be a Pro Member on the date of the report in order to get your CEUs.
Campus Store: Feature Films and Webinars in the Campus Store will be reported individually. They are also listed in your total.
Member Library: The videos in the Member Library will be reported in batches of 2 hours. So if you have 1.5 hours, we will not report the hours until you have over 2 hours. If you have 3 hours, we will report 2 hours at that time and 'roll over' the extra hour to the next reporting period.
Notes:

We do not report CEUs  for memberships associated with scholarship accounts for rescues and shelters. These are often shared accounts.
The maximum amount per reporting period will be determined by the CCPDT but we believe it will be something like 21 hours, which is their maximum per instructor per event.
---
HUH? If you do not need CPDT CEUs (or have no idea what that even means), you can ignore this feature. We do not request any other types of CEUs, but you may be able to request these from your organization yourself. When you contact them to apply for CEUs, include a printout or screen shot of your Video History as proof of viewing these videos.