In the Office Hours, I answer members' pet training and behavior questions in live sessions, which are recorded and shown here. Please log in or sign up for a Student or Pro membership to see the video.
Dog training and care questions in this video: [Not live because I'm traveling for the Teamwork seminar tour]
In the past I have avoided training automatic sits as a part of greetings for young puppies (I just used a 4 feet on the floor protocol instead), because I was concerned that the automatic sit would take away the puppy's choice to walk away or use their body language to communicate they were uncomfortable during those critical development times. Any thoughts?
I also talked about:

Trigger stacking and how to minimize stress for your dog during travel.
Teaching Bean to do a down-stay for someone coming to the door. I did live training of this for about 20 minutes in expectation of a real visitor. This session culminates in the delivery man arriving with my dinner at the hotel. We got a tiny little woof but he held the stay. Yay!
Links I referred to in this session (or could have):
UltraCalm collar by Pet Acoustics (sold by the same company that sells the Pet Tutor, so you can use the grishastewart.com coupon at checkout to save 6.6%)
Next week is also recorded, and then I'll be home again for live Office Hours. Here is my seminar schedule.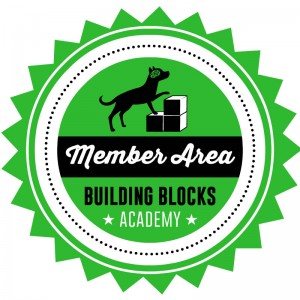 Building Blocks Members get instant access to video lessons, live Q&A, and more!

Professional, ad-free, expert advice

Click to Learn More
If you are already a member, please log in.