In the Office Hours, I answer members' pet training and behavior questions in live sessions, which are recorded and shown here. Please log in or sign up for a Student or Pro membership to see the video.
Dog training and care questions in this video: 
Due to inexperience with loose-leash walking and fearful dogs, I've conditioned Sunrise to be a reluctant on-leash uphill walker (long story, I had some questions about this about a year ago but finally identified the issue - no medical issues and is fine off-leash). Any suggestions on counter-conditioning her distaste for uphills? It's unfortunately impossible to avoid them here 🙂
Our town has a dense population of urban wildlife, particularly deer, who live in wooded spots all over town in close proximity to our homes.
Deer can excite my dog as much as any dog. In the backyard, I've been working to desensitize her off-leash when
the deer surprise us. I would love to hear your thoughts on this for on and off leash training. Thank you.
I have a foster dog who's life goal is to eat anything that he can find, regardless of if it is edible or not. He was born with PRAA (had surgery in november) and just has a sensitive tummy so it is really important that I do not let him eat things. Especially the kitty poop that is hidden around my apartment complex.Last night I tried bringing him out on his muzzle in the hopes that it would prevent him from eating things. It worked great to stop him from eating the mushrooms that were growing, but when he found the poop all he did was smash his muzzle into it to eat it.Obviously this is disgusting. The only thing I can think to do would be to find another muzzle with a solid, flat front part. What do you guys think? I'm ready to pull my hair out here!
This same dog is obsessed with licking things inside the house as well. If I let him, he will lick my carpet (which is full of dog hair and my very long hair, which then gets caught up in his poop) all day long. I assume he is licking because of a tickle in his throat due to PRAA.If he is out of his crate, I spend the ent

ire time watching him out of the corner of my eye so I can tell him to leave the floor alone. I allow him to lick inside his crate.

He has gotten better about not licking the floor in the past few months, but it is only because I spend every waking moment watching him and telling him to leave it. If I can't watch him I put him inside his crate. That includes just going to the restroom because he takes that opportunity to vigorously lick the floor under the chair I was sitting in. It gets old really quickly. What else do you guys think I can do about this?

I also talked about:

Advocacy for our dogs
Peanut's passing and what I am glad I did for him at the vet's office
Links I referred to in this session (or could have):
Facebook post about Peanut's passing
You're Not Crazy, You're Mourning - blog post on the grief process (written a while ago, still needs to be updated for Peanut)
BAT 2.0 book has a whole chapter on Peanut if you don't know who he is.
I will ask questions about scent training on the next Animal World Superstars: Monique Masoe June 14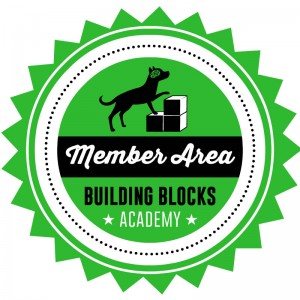 Building Blocks Members get instant access to video lessons, live Q&A, and more!

Professional, ad-free, expert advice

Click to Learn More
If you are already a member, please log in.