In the Office Hours, I answer members' pet training and behavior questions in live sessions, which are recorded and shown here. Please log in or sign up for a Student or Pro membership to see the video.
Dog training and care questions in this video: 
Congratulations on your new dog! What will you be focusing on with her first? Also, you mentioned that you wanted to have her be at a lower body weight. How will you work on this? Thank you
I'm moving from Seattle to South Korea this Friday where there are many stray dogs, cats, and many triggers for Oreo like bicycles approaching from behind. I will leave with family(on 3rd floor). Also, there will be many people and cars, coming and going since there is a hardware store on the 1st floor. What can I do to help her adjust to new environment and introduce my whole family to her?
Do you feel it is good for a dog's mental health to have another dog to live with? Would you have sought out another dog anyway if your sister wasn't looking to re-home hers?
I also talked about:

Meeting Zuki (with video of her first barky reaction and changes)
Introducing Bean and Zuki (with video and live commentary)
Links I referred to in this session (or could have):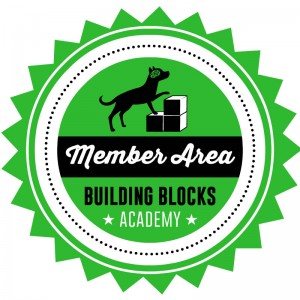 Building Blocks Members get instant access to video lessons, live Q&A, and more!

Professional, ad-free, expert advice

Click to Learn More
If you are already a member, please log in.