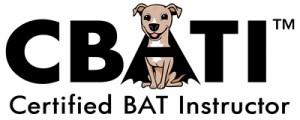 The best way to prepare for the CBATI certification is to take advanced BAT courses in person and/or through the online Animal Building Blocks Academy. There are two ways to do the theoretical exam to become a Certified BAT Instructor:
Take the theoretical exam in written form – in person. These are often scheduled after Grisha's seminars. If you are interested, please contact the seminar host or Grisha.
Do your theoretical exam by interview, as explained below.
Both ways require a theoretical exam, Practical Skills Assessment videos (PSA), and other steps, which are explained on the certification page. The written exam for the theory portion is the only part of the CBATI application that must be done in person (i.e., not online) but the oral exam can replace the written exam and is done by video chat.
You can use this page to register for certification. The oral exam tests your theoretical knowledge of BAT and is 1-2 hours long.
* Before applying, please read the CBATI certification page for complete information (theoretical exam, proof of experience, practical skills assessment, etc.)
What is the process if I apply this way? (See the certification page for details)
Submit your CBATI application fee. (Do that part right now, using the link below).
Take your written exam in the location you specify on the application or do the oral exam via video chat.
When taking the written exam, you will also sign the pledge to abide by the terms of the Progressive Reinforcement Manifesto (saying you train without force, etc.). For the oral exam, you will send in your manifesto pledge.
Submit your Practical Skills Assessment video clips.
Submit your training and behavior log forms by email at the same time that you submit your PSA.