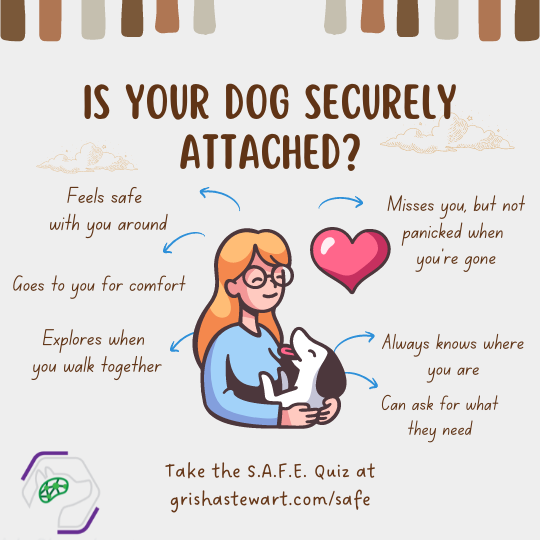 We 'dog people' love our dogs, in ways that people who aren't bonded to dogs just don't understand. We have formed a special kind of connection, what scientists call an attachment relationship.
It's not just a preference to attach. We're literally biologically linked to our attachment figures. Our heart rates and breathing sync up, and if the relationship is secure, even imagining the attachment figure increases heart rate variability, meaning our mammalian nervous system is better able to respond to stress (Bryant & Hutanamon, 2018).  Life is less scary, less painful, and more interesting with healthy attachments.
Attachment includes proximity seeking, which is one explanation for why my dog, Joey, just brought his toy to chew on my leg.
We can make life better for our dogs by paying attention to their experience of attachment relationships. To that end, I've developed a framework to systematically apply attachment theory to canine learning, which I call Secure Attachment Family Education (S.A.F.E.). This is big stuff and I hope you'll read it through!
Continue reading Can We Make Dog Training S.A.F.E.? Secure Attachment Family Education →