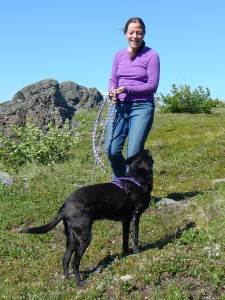 FOR IMMEDIATE RELEASE
Contact: Ellen Naumann
ellen@grishastewart.com
818-281-8235
Behavior Adjustment Training 2.0
New training approach brings hope for dog reactivity and socialization

Anchorage, Alaska. February, 2016 –  One of the main dog training controversies of the last several decades is whether or not to train with aversive force, especially when dealing with aggression. Prong collars, choke chains, and electronic collars are just a few of the tools that have been banned in several countries but are still promoted by trainers who are not well versed in modern techniques.
Author Grisha Stewart, one of the most prolific dog trainers in the world, is on a mission to replace intimidation with empowerment. Dogwise Publishing has produced her third book, "Behavior Adjustment Training 2.0: New Practical Techniques for Fear, Frustration, and Aggression in Dogs." A highly anticipated release, "BAT 2.0" is not a second edition of her first BAT book, but an in-depth look at how and why to use the upgraded technique.
"I understand why people may try the more confrontational techniques for aggression, but decades of research and practice actually tell us that there is no reason to train with pain or fear." She explains that there are better solutions for every dog issue, including positive reinforcement, clicker training and the technique she developed, Behavior Adjustment Training (BAT). "As caregivers, we have the opportunity to facilitate two-way communication, empower animals to meet their needs, and teach them how to actively cooperate."
Victoria Stilwell, author, dog trainer, and star of the Animal Planet show It's Me or the Dog, says "BAT 2.0 is a must-read for anyone who has or works with reactive dogs. Stewart gives control back to the dog allowing a delicate balance of freedom, the ability to make choices and safety. The results speak for themselves. Dogs that were once reactive now become more confident because Stewart gives them the life skills they need to cope more successfully in a social environment."
BAT 2.0 may change the way you work with every dog. The lessons in BAT 2.0 are relevant to families and professional dog trainers alike and cover all aspects of the technique. Grisha informs the reader on a number of topics, including how to arrange a BAT training session, how to socialize to prevent reactivity, and handy tips to facilitate your dog's calm behavior. Using only positive and stress-free protocols, Stewart's book is easy to read, with down-to-earth style, clear illustrations and thought-provoking trainer tips throughout.
"I loved the practicality of this book, as well as Grisha Stewart's dedication to giving dogs a voice in their own development!" says trainer and psychologist Risë VanFleet, Ph.D., CDBC, author of The Human Half of Dog Training. "This is must-reading for those working with dog reactivity in its many forms."
Stewart, an international speaker, author, and dog trainer, has helped dog trainers and caregivers worldwide use BAT to rehabilitate and prevent reactivity, including aggression, frustration and fear. In support of the book release, Stewart is lecturing in the Northeast, continuing to the UK, and the West Coast of the states. "My goal with these BAT Teamwork seminars is to help people understand what motivates behavior," she says, "so they can solve and prevent a lot of problems, from aggression, fear, and frustration to everyday manners. Making some key changes in how we interact with our dogs can have a profound effect on everyone's quality of life."
Grisha Stewart is Certified Professional Dog Trainer and author specializing in dog reactivity and cooperative care. She teaches in her online Animal Building Blocks Academy (ABBA) and travels the world teaching empowerment-based training to communities. She has a Masters in mathematics with additional graduate coursework in psychology and animal behavior. Grisha is a rock climber who lives in Palmer, Alaska with her patient husband, a sweet lap cat, a spirited old dog, and a lively new pup.
Links:
END
###