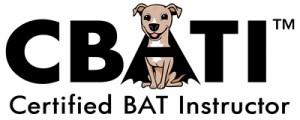 Click to Apply to Be a CBATI.
Grisha's Certification of BAT instructors provides dog owners with a trusted source of referrals to behaviorists and trainers using BAT to rehabilitate dog aggression and other issues. She started this program in August 2012. Certified BAT Instructors (CBATI) are trainers and behaviorists with experience using BAT with clients for aggression, fear, and bullying.
CBATI skills are tested both practically and with a theoretical exam. You can find a certified trainer or behaviorist near you in the CBATI directory. Theoretical exams are available by scheduling after Grisha's BAT seminars or orally (online).
Some Benefits of BAT Instructor Certification*:
International recognition as a BAT expert
Referrals from Grisha and other CBATIs
Marketing help (business link on our CBATI directory, help in discussion group, press release on CBATI status)
Mentoring: extra support for your work with clients (Facebook group just for CBATIs)
Use of the CBATI logo on your website and marketing materials.
(More) letters after your name! For example, Jane Smith, MA, CBATI
See note below on teaching seminars to trainers* (not included with CBATI)
More benefits! Discounts on Grisha's favorite products and websites, including: 
Requirements: The initial Full CBATI Certification process requires a Practical Skills Assessment (video case studies – see below), a written exam with essay questions, signing a statement committing to the principles of progressive reinforcement training, and 200 hours of experience training dogs using force-free training techniques.
The Certified BAT Instructor designation is valid for life. If you find that you are no longer doing BAT in its current form, we request that you just remove yourself from the directory until you can get up to date.
Proof of Experience: These 200 hours can be accrued by training dogs one-on-one, as part of one-to-one training with dogs and their owners, or within a class setting. Hours do not include work with your own dog or your foster dogs, but can be with board and train dogs without the client.
For example, you may submit log forms with 150 hours of behavior cases and 50 hours of regular training. Or 130 hours of behavior and 70 hours of regular training, or 100 of each. Fewer than 100 hours of behavior cases would be insufficient, even with enough hours of regular training to add up to 200.
These hours can be accrued before or after the CBATI exam.
Practical Skills Assessment: The video case study demonstrates your teachings skills and hands-on use of BAT in your work with a client. Click here for the case study information (PDF).
Optional: Client testimonial mentioning your use of BAT (any client) with permission to share publicly.
Ready to Apply? You can register for the theory exam and Practical Skills Assessment separately or as one unit. The CBATI written exam may be given at the end of seminars upon advance request, if the schedule permits, or you can do the theoretical exam by online interview.  Click here to apply.
---
* 'main trainer' or 'lead trainer' is defined as: a person who is responsible for all aspects of a training session with someone else's dog, including safety measures for dog and humans, training direction to clients, adopters, and/or assistants, and training direction with student dog(s). Lead trainer must act in accordance with the principals of progressive reinforcement training and be able to provide proof of lead training hours if requested.
** Please Note: the presentation of official BAT seminars and seminars about BAT to professionals is not a CBATI benefit. This is reserved for staff and certain designated trainers. You are, of course, welcome to give hands-on workshops and classes to pet owners for their own dogs. They should just not be labeled or marketed as a BAT seminar, but rather as being about fear, aggression, etc. The description can mention that you are including the technique of BAT.