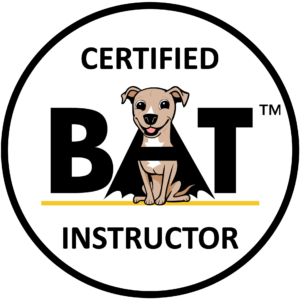 Certification of BAT instructors provides dog owners with a trusted source of referrals to behaviorists and trainers using BAT to rehabilitate dog aggression and other issues.  Certified BAT Instructors (CBATI) instruct and implement meaningful behavior change through BAT.
You can find a trainer or behaviorist certified in BAT near you in the CBATI directory.
If you want to become a CBATI right now, the current mid-pandemic option is to self-study online or work one-on-one with a CBATI and apply online (email us if you're ready for testing). CBATI skills are tested both practically and with a theoretical exam; both are available online.
We are currently developing a comprehensive online certification training and mentoring program, which should be available in Autumn, 2021.
Some Benefits of BAT Instructor Certification*:
International recognition as a BAT expert
Referrals from Grisha and other CBATIs
Marketing help (business link on our CBATI directory, help in discussion group, press release on CBATI status)
Mentoring: extra support for your work with clients (Facebook group just for CBATIs)
Use of the CBATI logo on your website and marketing materials.
(More) letters after your name! For example, Jane Smith, MA, CBATI
See note below on teaching seminars to trainers* (not included with CBATI)
More benefits! Discounts on Grisha's favorite products and websites, including: 
A collection of free courses just for CBATIs from my online school, plus a discount on everything else.
Discounted leashes, harnesses, and books in my online store.
Freedom Harness discounts
Discounts on all sorts of dog books and videos from Dogwise.com
Save on treat pouches from WOOFhoof
Save at PetExpertise.com online store for dog gear
Discounts at xtradog.com from the UK – really amazing harnesses
Requirements: The initial Full CBATI Certification process requires a Practical Skills Assessment, a theoretical exam with essay questions, pledge to follow the LIMA guidelines as published by CCPDT, APDT, IAABC, and a minimum of 200 hours of experience training dogs using force-free training techniques.
Proof of Experience: Current Certification as CCDPT-KA/KSA, CBCC, CDBC or KPA.  Or you may submit proof of 200 hours training dogs one-on-one, as part of one-to-one training with dogs and their owners, or within a class setting. Hours do not include work with your own dog or your foster dogs, but can be with board and train dogs without the client.
For example, you may submit log forms with 150 hours of behavior cases and 50 hours of regular training. Or 130 hours of behavior and 70 hours of regular training, or 100 of each. Fewer than 100 hours of behavior cases would be insufficient, even with enough hours of regular training to add up to 200.
These hours must be submitted prior to taking the CBATI exam.
Practical Skills Assessment: The Practical Skills Evaluation demonstrates your teachings skills and hands-on use of BAT in your work with a Client. The skills are evaluated in person at a Certification Course, or via video submission if applying on-line. Click here for directions on submitting PSA Video for certification  (PDF).
Optional: Client testimonial mentioning your use of BAT (any client) with permission to share publicly.
---
* 'main trainer' or 'lead trainer' is defined as: a person who is responsible for all aspects of a training session with someone else's dog, including safety measures for dog and humans, training direction to clients, adopters, and/or assistants, and training direction with student dog(s). Lead trainer must act in accordance with the LIMA Guidelines and be able to provide proof of lead training hours if requested.
** Please Note: except for the Introduction to BAT webinar, the presentation of online BAT seminars and seminars about BAT is not a CBATI benefit. This is by invitation only. CBATIs in good standing are welcome to give hands-on workshops and classes about BAT.