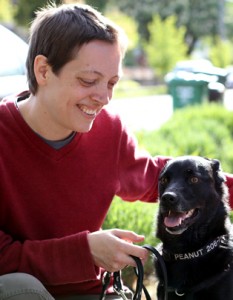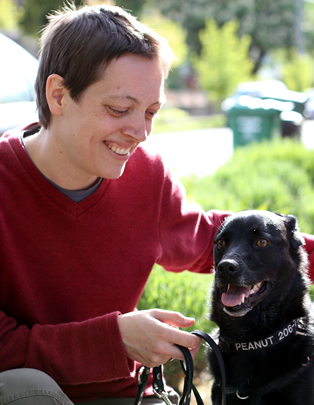 For the last several years, I have been pre-grieving Peanut's death. I have been afraid I would completely fall apart and lose my will to live.
Now that the worst has actually happened, I got lucky, because his death was not complicated by other emotions. I am just really sad and that's okay. We supported each other throughout his life and he was right there in my lap when he chose to go.
It turns out that his death was not as terrible as I thought it would be.  I thought I would want to jump off a bridge when he died. I literally had my family on suicide watch.
But now that it's finally happened, I've noticed that it's different; the worry for him and for myself is gone, leaving me with a chance to savor his life, a huge appreciation for the time we had together, and gratitude for the support of my friends and family.
Sadness is much easier to handle than worry, especially when you don't fight the pain, but just let it happen. This post isn't about telling you how to grieve, but just sharing how I am grieving, to share this possibility that we don't have to be crushed by loss to honor those who have passed. We all mourn differently, there are no 'shoulds' here.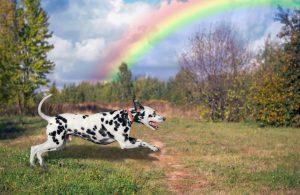 Many people talk about the rainbow bridge as the place where are dogs are waiting for us when we die.
It's human to have a deep need to know where are loved ones are now, and what they are doing. Having spent years caring for him, needing to know where he is at all times is a hard habit to let go. It's our job to keep track of them.
With Peanut's passing, I have found some solace in thinking of him running around happy with Spoon, who passed away last year, and Pirate, who passed away this month. But I need to process Peanut's life and death in a way that fits in with my own worldview. It turns out that what I came up with isn't inconsistent with the rainbow bridge, either, so hopefully it works for you.
This 'song of life' analogy has has helped me come to better terms with Peanut's death. It's loosely based on the Buddhist concept of clinging, as attachment as the root of suffering: "Pain is inevitable, suffering is optional." If you have lost a dog (or cat or other family member) I hope that this post helps you find a way to savor the experience of loss, to appreciate this time instead of suffering through it.
(And maybe this is already something already woven into some religion or philosophy. I don't want to waste this important time researching whether this analogy is new. I just know it didn't occur to me before and I want to share it because it helped me.)
If you've ever laid down tracks for a song or a video this will make sense. If not, I hope it still works for you, but feel free to comment with your own version, like maybe weaving together a tapestry or something else.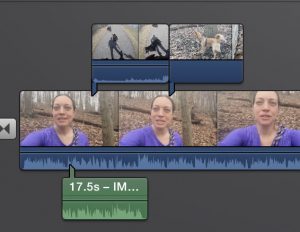 I'm thinking of the sum of all life as a jazz song or a movie, where each individual being is like one track laid down for a recording (like a guitar riff or a little movie clip). The length of those clips is the amount of time they are present here for the rest of us to see. Feel free to look through your own worldview to think about whether some higher power is creating the song or it's just what happens when so much life comes together.
Trees have very long lifespans, so they'd have very long tracks. Humans have shorter tracks and dogs and other small animals even shorter. When they happen to be in the same space and time we 'know' each other but we are all still part of this same multi-dimensional song, starting from the beginning of life and ending when it is all over, if ever.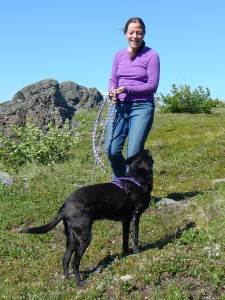 If I zoom in on my own track and see things just from my own perspective, it feels like a sudden shift, a catastrophe to lose him. If I zoom out to see the whole song, I see the beauty that we shared and how that fits in with everything else. I see how he was fading toward his end. All solos start and stop. If they went on forever they wouldn't be appreciated in the same way.
So Peanut may or may not make another appearance in the song of life. Maybe there is reincarnation, or heaven, or his energy and matter have just been converted into other form.
To me that doesn't matter so much as concentrating on what I do know. We had a fantastic time together, where our harmony added to the song of life. That will never go away. His existence has influenced the whole direction of my life and work. He was a frequency changer, a catalyst to shift my perception of the world.
His life happened exactly as it happened. At this point, the song has moved on and I have come to terms with the idea that he would no longer fit into it. So rather than clinging to him and wishing he were here now, I celebrate the fact that he *was* here. It feels oddly right that he is no longer here, which isn't to say that I would have wanted it that way, not at all. But I'm at peace with his death.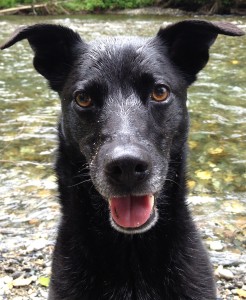 That doesn't mean I don't cry or that I just move on with life like he was never here. I have cleared my schedule to savor my sorrow and grieve for the loss of his physical presence in my life. I couldn't keep food down the day that he passed away. I have a knot in my chest sometimes. I cry when I feel like it and I enjoy every moment of this sad time while it's happening because that is the way that he is here now, through that experience of transition away from a physical Peanut. [If you have another experience, that's totally fine. We all grieve differently. I just want to share how I feel since it was unexpected to me.]
I feel intense joy and satisfaction when I look at the quality of our time together. I made mistakes with him, but I did my best to fix them, to strengthen our relationship and improve his quality of life whenever I could. From his influence on me and many others, Peanut is still part of the song as a whole, but his own track is over; from my own perspective in time, his tangible presence is gone. But his 'solo' is still impacting the song as it moves forward: there are so many ripples from his existence, like how I perceive my world, how I may now be better at honoring my own emotions, how I think of death, how I read dogs, how I love, how other dogs now have better lives because of him, and so much more.
In the end, I don't need to scream at the universe, "WHY?!" Instead, I whisper, "thank you."
(Look below the video for tips).
"Love Never Goes" Lyrics (Peanut YouTube version)

I am bound to you
You're in my heart to stay
One look at you and I knew
I'd love you every single day

—

We're on solid ground
You're in my heart to stay
Even when I'm not around
I love you every single day

—

* Love doesn't leave
* (It) Doesn't run out
* Love never goes away

* Love doesn't need
* No fence around (it)
* Love never goes away

—

You've got other loves
They're in your heart to stay
I don't have to be above
Just love me every single day

—

Hope you know by now
You're in my heart to stay
Even when I have to go
I'll love you every single day

—

* Love doesn't leave
* (It) Doesn't run out
* Love never goes away

* Love doesn't need
* No fence around (it)
* Love never goes away

* Love doesn't leave
* (It) Doesn't run out
* Love never goes away
---
Here are some things that I did that helped with my grief process and/or made grieving less complicated:
Quality time – As he aged, I arranged my schedule to spend less time traveling and be home more with him. I arranged for quality time alone or with Bean when possible, although I also maintained my own life and non-dog hobbies. For many devoted dog lovers, their life is all about dogs. If you have more than one dog, that could be fine, but if your dog passes away and you have no other dog, then you may find you have no sense of self and don't know what to do with your time. So let yourself have a life. You deserve it.
Filming – videos of us loving on each other and of him just walking through the forest give me the most solace. It gives me a way to reconnect as needed.
Empowerment – choices I made for him were always in his best interest, within the constraints of life among humans. So things like positive reinforcement, long leashes and harnesses, carpets on the floor, training for him to actively cooperate in blood draws and vet procedures, predictability, ability to control his own proximity and interaction with stressors, and only adding in pain or discomfort when it was medically necessary.
Being his advocate and fighting to be present at the vet whenever I knew me being there would help him. That helped prevent regrets. Many veterinarians insist on restraining your dog themselves or won't allow you to be in the room for IV fluids, but may agree if you sign a waiver or have muzzle trained your dog with positive reinforcement (even if they have no history of biting, muzzling means there's no possibility of the vet getting sued so they will allow it).
We kept his body at home for two days before cremation, like a wake. That gave all of us (including Bean and Dharma) time to really process that he was gone. I was able to go to his body and say goodbye many times. We curled him up into a dog bed (head tilted up to avoid leakage) before driving him home, so that he was in a good position when rigor mortis set in. It was relatively cool on our sun porch so we kept him there. If it's warmer where you are, get dry ice to put into the bed, under and around your dog (or cat or whatever). We had a hard time finding dry ice though. My friend in California had her dog's body for 5 days before cremation, so it's not just possible in Alaska.
Hearing other people's memories of him and going through videos, photos, etc. really helped. Specific memories of Peanut in real life or in videos help more than general statements like "I'm sorry for your loss" or "Dog's lives are too short," so I asked for people to share memories when I announced his passing. Every comment helped me, but it was so helpful when they did share a memory. If many people don't know your dog, make and share a short video of your dog's life so that people can share what they see in that. The process of making the video was also helpful to me, as well as rewatching it many times.
Stopping the clock. This is what I'm doing right now. I have lost a family member and need this time to sit with the grief. I don't need to go to work right now. I allow myself to have whatever emotions that come through, and I don't berate myself for having strong feelings or try to push them away. I don't force anything, neither trying to be sad nor trying to be happy.If I want to go on a hike or work or whatever, that's my choice, but I have paused as many time commitments as I can right now. Question anything that involves the word 'should' – that's usually a sign that it's not helpful for you in your grief, but rather just something that is motivated by avoidance of punishment.If you work for yourself, take the time off. Put on an autoresponder. If you work for someone else, use your sick leave or vacation time, and if that doesn't exist, see about a leave of absence.
More tips in my main grief article.
Here's my announcement of Peanut's passing on Facebook: